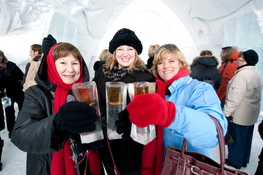 5 Reasons to Book Your Winter Vacation with Fresh Tracks Canada
By Lisa Kadane
Published May 26, 2021
3 min read
When Fall comes, turning the leaves red and gold and adding a chill to the air, Canadians get excited – not just because our Fall is wonderful in its own right, but because Winter is just around the corner.
It's this time of year that we dig out our scarves and toques, sharpen our skates, wax our skis, and relish the slow transition from the warmth of summer to the coziness of Winter. And we invite you to join us…
1. We're experts in Canadian Winter vacations
No one else celebrates the season quite like us, with winter festivals, sports, and activities that make the most of the snowy weather. And no one helps you enjoy them quite like Fresh Tracks — we book more than 2,000 train trips a year, including those on the iconic Winter Snow and Sleeper trains.
Whether you're celebrating the holidays in the Canadian Rockies or immersing yourself in the magic of Quebec's winter festivals, we'll make sure you get there in comfort and style.
INSIDER TIP: Fewer crowds make for a more laid back, quieter experience when travelling in the winter.
2. We personalize your Winter Wonderland
Fresh Tracks trips aren't one-size-fits all group tours; we specialize in creating personalized vacations to Canada. Unlike other typical travel companies, who offer set packages as a one-size-fits-all approach to travel, we personalize your vacation to suit your personal travel interests, whether you travel solo, as part of a couple, or with a group of your choosing.
If you're looking for a way to spend time with family, enjoy winter adventures with friends, or take a romantic getaway, a dedicated team of local experts, known as Canadian Insiders, will collaborate with you to uncover your travel needs and unique interests. They'll help curate your itinerary with hotels that fit your budget and experiences that are perfect for you.
INSIDER TIP: Winter weather varies from coast-to-coast so make sure you pack plenty of layers, including a water-and-windproof outer layer for colder days and locations.
3. We have Winter activities for every traveler
Level up your winter vacation with unique experiences and activities that make memories to last a lifetime. Fresh Tracks' portfolio of winter activities means there's something for every type of traveler – from more traditional winter activities like dog sledding and snowshoeing to hot springs in the snow for those looking to refresh mind and body.
Canada comes alive at this time of year with an abundance of celebratory festivals dedicated to the magic of this snowy season. From the Carnaval du Quebec to Ottawa's Winterlude Festival, there's no better place to see lights twinkling on an ice palace, enjoy the elaborate floats of the night parades, or cheer on teams in an Ice Canoe Race.
INSIDER TIP: Don't miss out on a Maple Taffy ("tire sur la neige") experience – a quintessential Quebecois treat where maple syrup is drizzled over fresh snow, and rolled up into a deliciously sweet snack.
4. We've got the inside track on bucket list Canadian experiences
Canada is one of only a few places in the world where you can see the wonder of the Northern Lights or see Polar Bears up close. We make it easy for you to check these truly Canadian moments off your travel bucket list by connecting you with experienced partners and giving you the inside scoop on how to make the most of your trip.
INSIDER TIP: Many winter experiences are for smaller groups, giving you the opportunity for unfettered, personalized access to nature and local staff who are eager to share their stories with you.
5. We're with you every step of the way
We're here to take care of all the details that go into making your Winter trip perfect. From planning your vacation to your return home and all the special meals, activities, and local advice you won't find on any travel site, we've got you covered.
We also offer on-the-ground support seven days a week through a dedicated helpline that will connect you to a Canadian Insider who can sort out missed connections, reschedule tours, or rebook hotels due to delays.
A Winter train ride means you get to see the frozen Canadian wilderness from the comfort of your reclining seat. So what are you waiting for? Canada looks good in the snow.