Best Time to Visit Montreal
By Fresh Tracks Canada
Published Jan 26, 2023
8 min read
If you're planning a trip, the best time to visit Montreal, Canada is in early spring or in the fall. Of course, what you can do and see in any city varies from season to season. Montreal offers amazing things to do throughout the year.
Montreal is a beautiful tourist destination in Canada. Located just north of the United States, it is one of the biggest cities in North America. Every year, millions of travelers visit Canada to experience the country's diverse culture. Montreal offers museums, fine dining, and European flair.
There is a whole underground network of shopping malls, urban nature parks, food tours, and art exhibits. Each season brings special events, from music concerts to maple sugar festivals. There is always something to explore and do in Montreal. When you choose to go depends on what you want to do. Whenever one travels to Montreal, they should expect to experience an elegant old city full of Canadian friendliness and hospitality.
Best Time of Year to Visit Montreal
Are you thinking of going to Montreal? If so, you will need to research the best time for your preferences. This city has four different seasons, whose average temperature and climate differ considerably. Certain occasions and activities may only occur at specific periods of the year, and some celebrations are also seasonal.
The best time of year to visit Montreal is between March and May and September and November. The weather is pleasant and there are plenty of hotel vacancies. Other than the concerns of availability and prices, there is no bad time to visit this destination. During the winter, the warmed passageways of the Underground City give a respite from the cold weather. If you are attracted to the mild summer, be careful to book your accommodations in advance: Montreal holds several major events this season.
Below we will describe each season and offer details by the month, including the events taking place during each season/month to help you decide the best time to visit Montreal.
March to June: Spring
When the first hints of spring arrive in April, Montréal comes to life. Most of the ice and snow melt, and you may not require winter clothing. The average temperature fluctuates from 40 and 79 degrees Fahrenheit (4 and 26 degrees Celsius).
There is a thrill in the air throughout Rue St-Laurent, Rue St-Denis, Plateau Mont-Royal, Mile End, and Little Burgundy during the first sunny weekend in May. Bixi rental bikes are available for impromptu excursions. Mid-May also marks the beginning of the renowned local events with Piknic Électronik.
Additionally, if you are a wildlife lover looking for the best time of year to visit Montreal, this is the time to consider. Numerous migratory species, including red-shouldered hawks, indigo buntings, bluebirds, and many more, frequent Parc du Mont-Royal as a stopover on their journey to their breeding sites. Consequently, bird watchers swarm to the park to see these species.
Keep a watch out for Museum Day, an annual occasion when local museums give free entrance, which generally happens in May.
Packing tip: A nice pair of boots can assist in keeping your feet dry from the snow and slush in early spring. The weather might vary dramatically from day to day. It is advisable to carry a range of clothing items. Dress in layers like the locals.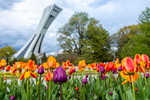 June to September: Summer
The summertime in Montreal is another ideal, beautiful time to visit. The median temperature range throughout summer is between 68 and 79 degrees Fahrenheit (20 to 26 degrees Celsius). Even though it might not seem very warm, summer months in Montreal can become highly humid and feel much warmer than they are. You may enjoy several outdoor activities, eat on patios, and attend numerous summertime events during your stay. If you like cycling, you will enjoy this season. You can quickly explore most of the city on foot or by bicycle.
Consider that throughout the summer in Montreal, the streets are very busy as tourists rush to the all the summer festivities. The demand for spending time in Montreal in the summer also means hotel and airfare rates are higher.
A great summer activity is to explore the LaRonde amusement park and the Old Port in downtown Montreal, which offers much entertainment.
The Montreal International Jazz Festival and the 10-day MURAL Festival are held in June. Formula One Grand Prix tickets are a must for auto-racing fans. Saint Jean Baptiste Day occurs on June 24th, while Canada Day occurs a few weeks later on July 1st. Both holidays are celebrated with parties and fireworks. Consider the Montreal Pride Festival, the Just For Laughs Festival in July, and the Osheaga music festival between the end of July and the beginning of August.
Packing tip: Ensure that you bring an umbrella with you, particularly if you travel to Montreal in August, since the summer season may be unpredictable. Occasionally, showers may persist the whole day or occur in brief surges. Pack shorts and tank tops for the warmer days, along with a light pair of trousers and a sweater for the cooler days and nights.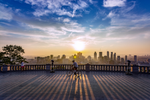 September to November: Fall
The fall is an ideal time to visit Montreal. The fall season in Montreal lasts between September till November, with typical daytime temperatures ranging from 34 to 70 degrees Fahrenheit (1 to 21 degrees Celsius). The later in the year you travel to Montreal, the colder it will become. You may want to plan your trip for early October rather than later. As temperatures drop, you may expect a decline in hotel rates, so this is an excellent opportunity to save money.
One of the best aspects of fall in Montreal is that trees start changing color. Cycling fans will appreciate the Grand Prix Cycliste de Montréal in mid-September, and everybody will love the POP Montreal International Music Festival. This month also features the Garden of Lights event and the World Film Festival, which take place at the Botanical Gardens for most of the month and conclude in late October or early November. Restaurant Week is the time to tantalize your taste buds. Also, the season will offer several festive events, such as the Santa Claus Parade.
Packing tip: There may be a few warm days in early September. Bring along some slacks, long-sleeved shirts, and a warm coat for the morning hours and nights. Even snowfall is possible in late autumn, so you must wear the proper clothing.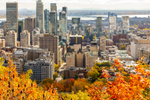 December to February: Winter
The city of Montreal excels in winter activities. The days of December through February transform the city into a winter wonderland. Snowfall and even snow storms are to be expected. The locals celebrate the winter season in small taverns and steamy sugar shacks. They take to the slopes of nearby mountains by skiing, picnics, and tobogganing.
The Underground City of Montreal consists of a vast network of stores and restaurants linked by a metro system that could take you practically everywhere in the downtown region. Montreal comes to life during Christmas, and the area's streets are illuminated with lights and seasonal decorations. Throughout December, several Christmas markets are located around the city. In early January, there are New Year's Eve celebrations with fireworks. Igloofest occurs later in the month when it is getting into the coldest months. 
Packing tip: Temperatures range between 0 and 34 degrees Fahrenheit (about -17 to 1 degree Celsius) and wind chill may make it seem much colder. Pack warm outerwear, hats and gloves, and lots of layers.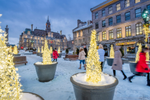 Top Reasons to Visit Montreal
There are several reasons for visiting Montreal. It has vibrant festivals, lots of museums, and a wide array of cuisines. The city's history and thriving arts and cultural scenes add to its charm. No matter what season you choose as your best time to visit Montreal, Canada, you will have a chance to explore unique events and festivals. Our travel experts named these top reasons to visit Montreal:
1. Montreal is a city of festivals
There is always some fascinating celebration going on. These festivals range from music, arts, and literature to theater and dance. The world's biggest jazz festival, the Montreal International Jazz Festival, is among the city's most recognized events.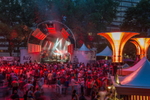 2. It's a top spot for clothes shopping
Montrealers are noted for their unique fashion sense, and the city's shopping options reflect this. Begin at the Eaton Centre Mall in the city's heart and go west along Rue Sainte-Catherine to explore the 1200+ upscale department shops, boutiques, and retail chains dotting the route. The city offers excellent vintage stores and boutiques along Boulevard Saint-Laurent, which stretches from Chinatown to Mile End.
Additionally, take advantage of Montreal's famous Underground City, known as RESO, where you can shop and move between different hotels and restaurants without going outside.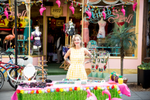 3. There are lots of museums
Montreal has numerous museums to explore if you appreciate artwork, culture, history, and science. A popular spot is the Musée d'Art Contemporain (the Contemporary Art Museum), which has a range of exhibitions. The Montreal Museum of Fine Arts features the world's finest art, archaeological finds, and antiques. Those fascinated by the natural world may visit the kid-friendly Planetarium, Biosphere, and Insectarium.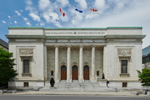 4. It's a foodie paradise
Montreal, which has more restaurants than any other metropolis in North America, is the perfect destination for foodies on the move. The city provides a variety of food-related events throughout the year, including Burger Week, MTL à Table, and La Fête des Restos, all of which celebrate the expertise of local chefs. In addition to being a part of the culinary scene, food trucks provide a range of great quick and regional foods.
When you're in the city, you must taste the following foods: poutine, a smoked meat sandwich, and a bagel made in the Montreal way.
5. All the microbreweries
Several microbreweries, brewpubs, taverns, and pubs in Montreal serve delicious and popular local and artisanal beers. Dieu du Ciel and Amère à Boire are prominent destinations, and you'll find them teeming with locals all day, from after work to late at night, seven days a week.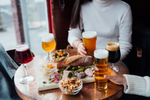 Final Thoughts
There is no particularly wrong time to visit Montreal as each season provides different events, weather, and attractions. There are always fun events and things to do, regardless of when you arrive.
The pros for each season: fall offers fewer tourists, gorgeous foliage, and pleasant weather; winter has the fewest tourists and the lowest prices, as well as snow sports; spring has affordable rates, fewer crowds, and magnificent nature; and summer has the best weather and the famous music festivals.
The cons for each season: in the summer, the temperature and humidity may be uncomfortable. Montreal is the most costly and congested during this season. In the autumn, the temperature is still bearable, but it becomes colder as the season draws to a close, and there may be rain or snow. It's also the second most popular period after summer, so you will still encounter some crowds. During the winter, the weather can be very cold with snow and ice. Cancellations of flights and changes to your vacation arrangements are possible. Spring's weather can be unpredictable. It also offers fewer unique festivals and events.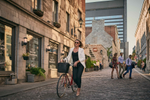 Current Promotions
Sign up for special offers, monthly Canadian Insider tips, and vacation inspiration.