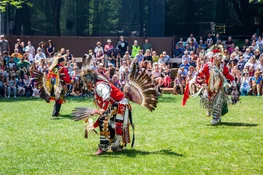 Best Summer Festivals Across Canada
By Fresh Tracks Canada
Published Jul 20, 2022
5 min read
Are you looking for things to do in Canada in the summer during your train vacation? It's nice to have a diversity of entertainment options, so you can truly enjoy the sights, culture and history of the country. Attending festivals is a great way to immerse yourself in everything Canada has to offer.
Here is our list of some of the best summer festivals across Canada. If you're in the stages of planning your next vacation, these events run every year.
Jazz festivals across Canada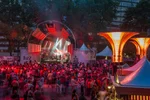 Taking in a jazz festival is a top thing to do in the summer in Canada. There are numerous options that run each year in cities across the country. Each offers a diversity of artists, indoor and outdoor venues, and family-friendly or adult-focused events.
The TD Toronto Jazz Festival
The TD Toronto Jazz Festival is considered a destination event for both music lovers and some of the greatest jazz musicians in the world. Over 500,000 people attend each year and there are 40 places throughout the city to visit for events. Urban plaza Nathan Phillips Square serves as the festival's primary location.
You can attend shows that showcase a wide variety of musical styles, from blues and R&B to funk, hip-hop and Latin music.
Start your Canadian Cross Country Journey in Toronto to experience its many events.
Montreal International Jazz Fest
With over 450 free outdoor concerts and another 200 paid concerts available, it's impossible not to find a musical group you enjoy at the Montreal International Jazz Fest. This summer festival in Canada features more 3,000 artists, hailing from more than 30 countries. Expect to meet a lot of avid music fans at the festival. It broke the Guinness World Record for music festival attendance in 2004, and is ranked as the world's largests jazz festival.
If you need to get in from the sun, you can attend indoor events and the shows run from midday into the late evening.
Plan your Montreal and Quebec City Getaway by Rail to coincide with the festival.
Vancouver International Jazz Festival
The Vancouver International Jazz Festival has featured performances from names that include The Roots, Wu-Tang Clan, Brad Turner, Melissa Aldana and Jacob Collier. Around 460,000 people attend the festival each year, which features a mix between popular musicians and local bands, including from nearby high schools.
Along with theater performances, this festival includes David Lam Park Jazz weekend, with outdoor and indoor stages, family activities and food trucks.
Many of our train journeys start or end in Vancouver.
One of Canada's most iconic summer festivals is the Calgary Stampede, which features rodeo competitions, country music events, firework shows, and tons of food vendors offering tasty treats. The Calgary Stampede is the world's biggest rodeo and also includes other agricultural events such as the annual Stock Dog World Championships. If you can't make it to the annual festival, the Calgary Stampede fair grounds are open for visitors all year long.
Start or end your visit to the Canadian Rockies in Calgary.
Banff Summer Arts Festival
Banff National Park is a Canadian treasure, with mesmerizing scenery and mountains to explore. It's also home to the Banff Centre for Arts and Creativity, which hosts several events throughout the summer, from the months of May to August every year. You can catch music concerts or attend visual art exhibitions and independent film screenings.
Spend extra time immersed in Banff on our Banff & Canadian Rockies Explorer trip.
Wendake International Pow Wow
Exploring Indigenous culture is a fascinating thing to do in Canada, and there are special events to experience during the summer. The Wendake International Pow Wow is an annual festival that celebrates the traditions of 11 Indigenous nations throughout Canada. It's hosted each year in Quebec and allows visitors to partake in workshops that teach them skills such as cooking and clothes making. The Pow Wow offers a special youth space to keep children entertained with activities.
Canadian National Exhibition — aka "The Ex"
No list of the best summer festivals in Canada would be complete without the Canadian National Exhibition in Toronto — fondly called "The Ex" by locals. This top summer thing to do in Canada offers a little bit of everything: You can attend gaming exhibitions, take a tour of the casino, attend a concert, ride the carnival rides, or watch the annual air show. The Ex runs from the middle of August through the first week of September. It always coincides with the celebration of Canadian Labour Day, which is the first Monday of September.
Pride Festivals in Canada
If you're looking for things to do in Canada in the summer, you could attend one of the many Pride celebrations that are hosted each year across the country, which highlight and promote 2SLGBTQI+ communites, and provide a space for cultural expression. These events run all summer long, with the earliest Pride celebrations beginning in June and others running through the middle of September. The biggest events are found in Canada's biggest cities.
Officialy founded in 1981, Toronto Pride has year-round events but the biggest are during Pride Month and Festival Week in June, culminating in the annial Pride Parade.
Vancouver Pride, marking its 44th anniversary, hosts various signature events through the summer, including the Vancouver Pride Parade and Sunset Beach Festival, held the last weekend in July in 2022.
It's been 15 years of the Montréal Pride Festival, which will take place from August 1 to 7 in 2022.
Canadian Theatre Festivals
Stratford Festival
A wonderful way to spend some time in Canada in the summer is attending a theatre festival. The Stratford Festival runs for several months a year and is dedicated to the performing arts. It features theatre from a variety of genres, but is celebrated for its productions of Shakespeare's plays. You can expect to see classic plays such as Hamlet, All's Well That Ends Well, and Richard III, as well as modern interpretations, such as Hamlet-911. The festival is hosted in Stratford, Ontario, not far from Toronto.
The Shaw Festival is another great event for avid theatre fans, featuring plays such as Damn Yankees, Gaslight, This is How We Got Here and The Doctor's Dilemma. Visitors can choose from 13 plays at any time shown on three stages, so there's something to see for everyone. Its proximity to Niagara Falls means that you can entertain yourself while taking in some amazing sights throughout the day, and its the perfect add on to our Canadian History and Culture by Rail journey.
They say Newfoundland is the North American version of Ireland, and you can experience that first hand at the George Street Festival in St. John's. Located in the historic downtown of the seaside city of St. John's, George Street is famous having the most bars and pubs per square foot of any street in North America. Withing those two-dozen-plus pubs, you will find all types of music, including Irish, blues, rock n' roll, dance, country and traditional. The party lasts late into the night during the festival, with special outdoor perfomances, beer tastings, and celebrity guests. It's why it's included on our list of the best summer festivals across Canada and one of the top things to do in the country.