Best Time to Visit Nova Scotia
By Fresh Tracks Canada
Published Feb 4, 2023
7 min read
The best time to visit Nova Scotia is in the summer, but our ultimate guide will help you choose depending on what you want to see and do. Learn about places to stay, things to do, events to attend, and food to eat.
The maritime province of Nova Scotia is one of Canada's most popular tourist places. Surrounded by water, Nova Scotia offers boating and kayaking activities around the year. It is also blessed with diverse landscapes.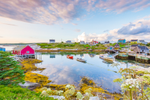 There are islands, hiking trails, and vineyards waiting to be explored. It is a great tourist hotspot. However, visitors always face one big question: when is the best time to travel to Nova Scotia?
Three different bodies of water surround the province and they influence the temperatures in different seasons. If you're traveling to Nova Scotia, you should factor in your tolerance to different weather.
If you're confused about the different seasons and what each offers, fret not. Our team of travel experts at Canadian Train Vacations is here to help you. They can recommend the best time of the year to visit, plus seasonal events in Nova Scotia.
When is the best time of year to visit Nova Scotia?
Summers are the best time to visit Nova Scotia. These warmer months can be busy. The winters are the low season and you may experience extreme cold and snowy weather. But if you can enjoy cold-weather activities, winter trips can be economical. You can also take advantage of some great deals and unique activities in the spring and fall as well. Here's a lowdown on what to expect in each season.
July and August: high season
Summer begins around the end of June and lasts up to August. It is one of the best times to visit Nova Scotia and see it in all its glory.
The temperatures range from the mid-60°F to 70°F. The Gulf of St Lawrence in the north keeps it fairly warm during this time and you can explore the province in comfort.
Laze around the numerous idyllic beaches, try kayaking, and explore the panoramic waterfronts. You can also attend the variety of festivals that are celebrated in these two months.
Like all tourist destinations, the region can get a little busy during the high season. It is recommended that you have a plan around your choice of festivals. Also, book your hotels and transport well in advance.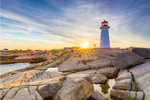 May-June and September-October: shoulder season
The summer season is bookended by the shoulder season. May-June, the spring months, and September-October, the fall months, collectively make up the shoulder season. This is neither the peak season nor a complete off-season, making it a sweet spot to explore Nova Scotia.
In spring, you can expect morning fog and a landscape filled with blooming wildflowers. Temperatures are also quite tolerable and range from 50ºF in early May and 70ºF around mid-June.
During the fall, temperatures are ideal for outdoor adventures like going on hiking trails or setting camps in the wilderness. You can include a hiking trip along the Cabot Trail on your itinerary. Also, enjoy popular attractions such as Peggy's Cove Lighthouse with comparatively lesser crowds.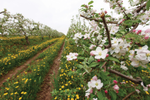 November to April: low season
Nova Scotia has an extreme winter season with temperatures hitting as low as 5ºF. The entire province is snow and ice by this point. It may not be a good time to visit if you have a lower threshold of bearing the cold.
However, this is when accommodations offer some of the lowest prices and your trip expenses go down significantly. Around the Christmas season, there are plenty of indoor activities that you can take part in.
Popular events in Nova Scotia
Nova Scotia holds many events to celebrate different aspects of the province. Right from food and wine to Acadian cultures, these festivals are a must-visit to get to know what makes the province so unique. You'll also learn about the local lifestyle up close.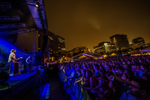 Celtic Hues International Celebration
Celtic Hues International Festival is an annual music festival usually held in October on Cape Breton Island. Since its inception in 1997, the festival has been a popular crowd-puller. It features talented musicians from the Celtic music world.
Devour - the food and film fest
Devour is a noteworthy street food rally conducted by the students of Canadian Culinary School. The event mostly takes place in October and lasts for around six days.
You can expect a stellar lineup of internationally renowned chefs, experiential food tours, practical workshops in film and food, food tastings, and much more at this fest.
Starlight Celebration
Starlight Festival is an annual celebration in the Acadian Skies & Mi'kmaq Lands Region of Nova Scotia. It is conducted every year in the late summer or fall season and the dates depend on the moon's cycle.
You can enjoy varied activities like guided stargazing, hikes and walks, astrophotography courses, museum exhibit tour, and much more.
Halifax Jazz Festival
The TD Halifax Jazz Festival is one of the oldest and largest annual jazz festivals in Canada. Spanning over two weeks, usually in July, this extravagant festival features a lineup of top jazz artists and ensembles. Along with jazz, you'll also get to see performances in the blues, Latin, and R&B genres.
Nova MultiFest
Often held in July in the Dartmouth region of Nova Scotia, Nova MultiFest represents the different cultures of the province. It highlights the music, art, and cuisines native to each culture. You'll see performances, and exhibits from the multicultural province and taste some exquisite culinary favorites at this fest.
Halifax Fringe Festival
The Halifax Fringe Festival is an annual performing arts festival held in late August and early September in Halifax. It spans over two weeks and showcases non-mainstream theatre artists and a vast variety of original plays.
Where to stay in Nova Scotia
Nova Scotia welcomes tourists around the year and has some of the best accommodation options for all budgets. From luxurious resorts to waterfront cottages, vintage bed & breakfasts to charming country-side inns, you'll have a lot of options to choose from. Here's a list of a few places you could head to.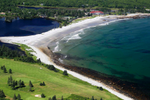 White Point Beach Resort in Hunts Point. This resort made it to National Geographic Traveller's list of top 10 coastal destinations in the world. You can either stay in one of the hotel rooms or the ocean-front cottages. Overlooking the ocean, you'll have stellar views at all times. You can head to the beach for walks any time you want.
Cabot Cape Breton in Cape Breton. This resort overlooks the magnificent Cape Breton coastline. With some of the best professional golf courses in the world, this resort is a paradise for golfers. Cabot Links and Cabot Cliffs are the popular award-winning golf courses on the property.
Argyler Lodge. This accommodation provides the perfect blend of rustic maritime vibes and contemporary interiors. You can stay in the lodge's antique suites that will take you back in time. The property also has an in-house restaurant on the cliffs overlooking Lobster Bay. You can try the traditional lobster boils while sipping on your drinks, and watching the sunset skies across the horizon.
Pictou Lodge Beachfront Resort. This property is right across the Northumberland Strait and the Pictou beach is on the property. You can head for a quick swim anytime in the warm waters of the strait.
Oak Island Resort. This property on Oak Island offers many accommodation options. You can stay in a nautical-themed hotel room, a beach house, or the ocean chalet. You'll have a host of on-site amenities like a swimming pool, bike rentals, and a tennis court to enjoy your stay.
Famous Food in Nova Scotia.
Nova Scotia's cuisine is typically Canadian and also has a lot of seafood. Here are a few famous dishes you must try.
Donair

. It is a variant of the Turkish Doner Kebab and is made of a pita wrap enclosing spiced beef slices. It is cooked with onions, tomatoes, and a sweet garlic sauce or condensed milk sauce.

This is the most popular dish in Nova Scotia and is loved by both locals and tourists. You can have this at Johnny K's Authentic Donairs or Snappy Tomato in Halifax.

Seafood

. Nova Scotia is home to both saltwater and freshwater coastlines, resulting in an abundance of seafood. Fish is served across the province in many ways. You'll find dishes with raw, steamed, and deep-fried options. Fish and Chips, and Fish Cakes are also quite popular.



A variety of dishes made of lobsters, clams, mussels, and more can be found around the shores. Visit the Rudder's Brew Pub & Seafood Restaurant in Yarmouth to try their delicious seafood offerings and enjoy the waterfront views as you dine.

For a more casual setting, you can head to The South Shore Fish Shack in Lunenburg, popular for its fried seafood and lobster dishes. 

Hodge Podge

. It is a traditional Nova Scotian native one-pot meal soup, which is made of fresh seasonal vegetables and has a creamy consistency. You can try this at The Flying Apron Inn & Cookery in Summerville.

Blueberry Grunt

. With exorbitant wild blueberries produced in Nova Scotia, it is considered the blueberry capital of Canada. The Blueberry Grunt is made by blending the blueberry mixture with biscuit dough and then cooking it on the stove in a tightly covered dish.



This blueberry dessert is an absolute crowd favorite. You can have this at Salty's in Halifax or at Island View Restaurant on the Western shore.

Rappie Pie

. It is a traditional Acadian dish made with grated potatoes and meat. The grated potatoes are first treated to get rid of their water content and then blended into the meat stock before baking it all together.



The best places to try an authentic rappie pie would be on the Acadian shores or in Yarmouth. Dennis Point Cafe in Pubnico is a place you must try the rappie pie at.
Final Thoughts
The best time to visit Nova Scotia will depend on your interests and preferences. Although some may not want to visit in winter, some travelers and winter sport enthusiasts will find the place more inviting during that time.
Winter ensures reduced crowds and engaging locations for skiing, ice fishing, winter camping, and other such activities. Summers are definitely the preferred time to visit Nova Scotia, with plenty of activities and great weather for enjoying the outdoors. Plan accordingly and visit soon!
Frequently Asked Questions
How many days do you need in Nova Scotia?
A week is an ideal period to enjoy most of the attractions. However, the longer you stay, the more you can explore this maritime province.
What is the warmest month in Nova Scotia?
July, August, and September are the warmest months in Nova Scotia.
What is the tourist season in Nova Scotia?
There are three tourist seasons in Nova Scotia. Summer is the high season while winter is the low season. Spring and fall months together make up the shoulder season.
When can you see the northern lights in Nova Scotia?
You may see the northern lights in Nova Scotia in the months of September, October, or March.
Is Nova Scotia warm in May?
Nova Scotia is warm in May. The daily high temperatures can be between 44°F and 63°F, while the daily low temperatures are between 31°F to 46°F.
Is Nova Scotia cold in June?
June marks the beginning of early summer in Nova Scotia. It may be a little humid.
Current Promotions
Sign up for special offers, monthly Canadian Insider tips, and vacation inspiration.