Luxury hotels we love in Canada
By Fresh Tracks Canada
Published Nov 8, 2022
8 min read
Travelling to Canada and looking for the best hotels to make the most of your vacation? The Great White North offers luxury accommodations to meet all your travel needs. It's not all rustic log cabins (though we have those too). You will find all kinds of hotel rooms in Canada, from suites in mountain resorts — with amazing views — to boutique hotels in the heart of one of our vibrant cities.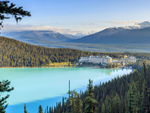 Canadian travel expert picks for top hotels in Canada
As Canadian Insiders and travel experts, we know a good hotel stay is about more than the view. It's about comfort, service, cleanliness, and amenities — and its access to the local attractions. We've been helping visitors to Canada plan their Canadian train vacations for almost 30 years and have worked with luxury hotels across the country, discovering all the elements that go into an exceptional hotel.
The best luxury hotels in Canada offer spotless rooms, plush beds, first-rate hospitality, and plenty of amenities. Location is also key. They need to immerse you in the local experience, creating opportunities for life-long memories. With these criteria in mind, our Insiders have chosen their picks for the best luxury hotels in Canada for your next Canadian vacation.
Discover our trips: Find your perfect Canadian vacation
The Great George in Charlottetown
Composed of 54 luxurious suites spread across 17 beautifully restored heritage buildings, The Great George in Charlottetown (1) is one of the most unique hotels in Canada. No two rooms in this historically rich hotel are alike, making each stay a unique adventure. The Great George, which was built in 1846 by James H. Down, started out as a shop carrying groceries and other essential items. Today, The Great George and all its buildings take up an entire city block—bringing elegance and history to the downtown core.
"Located on the historic Great George Street, this hotel is the perfect base for exploring the town of Charlottetown," says Canadian Insider Katherine Foxcroft, product manager with Canadian Train Vacations. "All room include breakfast, setting you up nicely for a day of sight-seeing, and then you return to the inviting comfort of your room."
There are several nearby dining options for guests including oyster bars, breweries, steakhouses, and more. Complimentary breakfast, tea, and coffee are also available, but guests rave about the complimentary fresh baked cookies the most.
Hotel Place D'Armes in Montreal
Located in the heart of Old Montreal, Hotel Place D'Armes (2) is one of the largest hotels in the city, with 169 luxurious rooms and suites. Comprised of four 19th-century neoclassical buildings, the hotel offers lavish rooms, ample amenities, and unbeatable views of the city. Guests rave about the convenient location and how easy it is to travel on foot—both key elements to being a best hotel in Canada.
If you are looking for unforgettable dining experiences, Hotel Place D'Armes is the spot to be. It is one of the Canadian hotels with a very European vibe.
"Sip cocktails on the rooftop terrace or transport yourself to Paris at the hotels' French bistro–Brasserie 701," Foxcroft says.
The hotel also offers a variety of luxury spa treatments including the popular Middle Eastern steam bath. For those who crave adventure, spend your days exploring Old Montreal where you'll discover boutique shops, museums, and historical buildings.
Discover more about Montreal: Best things to do in Montreal
Auberge Saint Antoine in Quebec City
Another top hotel for your Canadian vacation in Quebec is the Auberge Saint Antoine (3) in Quebec City.
The 95-room hotel is equipped with an extensive list of amenities including an onsite theater that you can book for private movie nights. Looking to relax? Auberge Saint Antoine also offers various spa services, bars, and babysitting services to meet your every need.
"If you're searching for a romantic and memorable adventure, then Auberge Saint Antoine will not disappoint," Foxcroft says.
Choose from a handful of in-house restaurants where you can enjoy mouth-watering French-Canadian dinners expertly crafted with fresh, local ingredients. Or schedule a walking tour and experience the best that Quebec City has to offer.
Discover Quebec City on a train vacation: Montreal and Quebec City by Rail
Fairmont Royal York in Toronto
Conveniently located in Toronto's downtown core, the Fairmont Royal York (4) is just steps away from popular shops, top-rated restaurants, and Toronto's top landmarks, including Toronto's train station. Spend the day visiting iconic sites such as the CN Tower or the ROM. For sports fans, Toronto's Scotiabank Arena is just a brief walk away. In addition to its prime location, Fairmont Royal York offers a breathtaking interior with loads of things to see and do. Spend your stay being pampered in the hotel spa or shop until you drop by one of the hotel's many boutiques.
The beautiful historic building dates to the 1920s and features stunning hand-painted ceilings, magnificent chandeliers, and more. The Fairmont Royal York's 1,343 guest rooms and suites are luxuriously decorated, with comfort top of mind. If you're looking for grandeur and excitement, this is the hotel for you.
Tour Toronto on a train vacation: Canadian History and Culture by Rail
Moraine Lake Lodge in Lake Louise
While not as famous as our next pick, Moraine Lake Lodge (5) in Lake Louise is the perfect place to escape your daily stresses and get back in touch with nature. Nestled within the Rocky Mountains, this luxury cabin-style hotel enables access to a lengthy list of outdoor opportunities. Spend your time hiking, canoeing, or soaking in the mountain views on a gondola ride. Wildlife viewing, horseback riding, and river rafting are also available for those seeking adventure. After a day full of outdoor fun, enjoy gourmet dining at the Walter Wilcox Dining Room where you can savour a rotating menu full of fresh, regional dishes.
The lodge's 33 accommodations include 18 cabins, 8 lodge rooms, 6 rooms in the Wenkchemna Wing and one Honeymoon Suite. Each features lodge-style decor and breathtaking window views–a favourite among guests. During your stay, you'll enjoy several complimentary amenities including breakfast, guided hikes, and canoe rides on Moraine Lake.
"Staying in a mountain lodge surrounded by nature is a uniquely Canadian experience," says Fernando Florian, a Vacation Advisor at Canadian Train Vacations.
Arguably the most famous hotel in Canada—you've probably seen many photos—the Fairmont Lake Louise (6) looks like a castle and is more of a resort than a simple hotel. Located on a stunning turquoise lake, it is one of the best hotels in Canada to visit during the winter. With skiing, skating, and snowshoeing on offer, the entire hotel transforms into a winter wonderland. Home of the famous Ice Magic Festival, a stay at Fairmont Lake Louise will create lasting memories.
Naturally, the beautiful location is every bit as inviting in the warmer months as well, with spring, summer and fall offering hiking and wildlife tours. Bask in self-care when you spend a day at the hotel spa. Or indulge with locally sourced meals at any one of the on-site dining establishments. Some of the hotels 539 rooms feature balconies, which are the perfect spot to take in the spectacular views of the Rocky Mountains.
This historical hotel was originally built by the Canadian Pacific Railway in the late 1800s, with additions and renovations over the next 100 years turning it into the modern resort it is today. It is a true piece of Canadian history and has hosted dignitaries and celebrities alike.
"It's a place to enjoy both history and glamour—imagine taking tea on a terrace where Marilyn Monroe once posed," Florian says. "Do know that this hotel tends to sell out early, so we recommend booking at least six months in advance."
For a truly iconic Canadian experience, add a stay at the Fairmont Lake Louise to your train vacation in the Rockies.
Read more: Iconic Railway Hotels in Canada
With its unique architecture and unbeatable views, Rimrock Resort in Banff (7) is a truly unforgettable location. Located steps away from the famous Banff hot springs, there's no shortage of things to see and do around the hotel. You're never too far from some of Banff's best golfing, skiing, hiking, and biking opportunities. The hotel itself is full of luxury dining options and lounges, where you'll enjoy farm-to-table inspired meals, live performances, and hand-crafted cocktails.
"Walking into the lobby is a truly memorable experience," says Foxcroft. "The hotel is built into the side of Sulphur Mountain and the views are breathtaking. Don't miss having a drink in the lounge."
Inspired by the surrounding nature, each room in the 333-room-hotel is decorated with wood accents and warm earthy tones. To relax and reset, be sure to spend some time in the on-site spa as well where you can enjoy breathtaking mountain views.
The Fairmont Palliser in Calgary
Centrally located in downtown Calgary, the 407-room Fairmont Palliser (8) is a beautiful historic building with luxurious ammenities. It a great base to explore this Western city and is in walking distance of the shopping district, and arts and entertainment venues.
Other ammenites include an on-site spa and ecalyptus steam room, a free bike program to explore the city, and traditional afternoon tea.
It's an ideal location for taking in the world-famous Calgary Stampede. It's an easy 15-minute walk to and from Stampede Park, where the main events take place. During Stampede, the hotel's public spaces are outfitted with cowboy-inspired décor. Don't miss the rustic cocktails served in the grand lobby bar.
Surrounded by rolling hills and towering trees, the 519-room Fairmont Chateau Whistler (9) is a luxurious resort offering some of the best activities British Columbia has to offer.
"Service at Fairmont Whistler is always top-notch, so we know our clients are being taken care of in the best way possible," Florian says. "And the hotel's location on the edge of Whistler Village means it is quiet but still close to everything."
The hotel runs daily guided tours and yoga classes as well as on-site golfing on a beautiful course. Dining options range from cozy outdoor lounges to romantic indoor steakhouses, so there's something for everyone. Don't miss a swim in the hotel's inviting outdoor pool, which is open year-round—a soak in the hot pool surrounded by snow is a truly special experience.
Soak in Vancouver's stunning waterfront and mountain views at the Pan Pacific (10).
"If you have time in Vancouver then we highly recommend staying in a waterfront hotel," Foxcroft says. "The Pan Pacific is a fabulous option, with gorgeous rooms, postcard-perfect views, and excellent service."
Guests can enjoy their cocktails and dinners with superb views of the harbour or choose to stay cozy and order in-room dining. You'll find a calming outdoor salt pool and hot tub that are open all year round for your enjoyment. Other amenities include spa treatments and an on-site fitness centre.
Read more: Best Things to do in Vancouver
Magnolia Hotel and Spa in Victoria
The Magnolia Hotel and Spa (11) may be a small boutique hotel, with only 64 rooms, but its list of amenities and nearby attractions is large. A recent renovation transformed the bathrooms into personal spas, with marble floors, large walk-in showers, and invitingly deep soaker tubs. There's also a full on-site spa, where you can indulge in relaxing treatments. Or partake in cocktails and share plates in the hotel's award-winning restaurant, The Courtney Room.
"While Victoria has lots of great restaurants, it's always nice when you don't have to go far from your hotel," Foxcroft says. "One of the many reasons to stay at The Magnolia is the Courtney Room, a wonderfully elegant restaurant, perfect for happy hour, a relaxing brunch, or a special occasion dinner."
Winner of several travel awards, Magnolia Hotel is a must-have on your bucket list. Add a visit to Victoria to any train vacation that starts or ends in Vancouver.
Learn more: Vancouver Train Tours