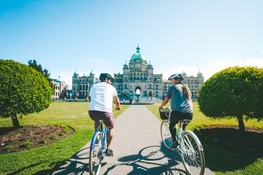 Best Places to Visit in Canada in the Summer
By Fresh Tracks Canada
Published Dec 6, 2021
8 min read
Choosing which part of Canada to visit on your Canadian train vacation can be a daunting task — flanked by two oceans and boasting a land mass of just under four million square miles, the country has a rich variety of landscapes and cultures to explore.
Whether it's the stunning Coastal and Rocky mountain ranges of the western provinces of British Columbia and Alberta; the unique French-Canadian traditions of Quebec; or the toe-tapping Celtic vibe of Nova Scotia in the east, there's a lot to uncover. Despite the diversity between regions in this massive country, one thing stays the same — Canada remains a safe place filled with easy-going people who are happy to share the best of their cities with those from away.
Here are some of the best places to visit in Canada in the summer.
Victoria, British Columbia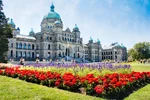 On Vancouver Island in the Pacific Ocean just north of Seattle is the city of Victoria. Small enough to feel quaint (pop. 394,000), but large enough to keep visitors busy for days, Victoria is the capital of British Columbia — Canada's western-most province — and is known fondly as the City of Gardens — which makes it one of the best places to visit in Canada in the summer. The city is a charming mix of tweedy old English culture and beachy, west coast lifestyle with a dose of modern tech mixed in. The downtown core is packed with museums (traditional, wax, insect, and miniature), cafe's (Hey Happy or Discovery Cafe are wonderful options), and more brunch spots than you can explore in a weekend — try The Ruby or Shine Cafe for a proper local mid-morning feast. A network of bike lanes and a walkable downtown core makes navigating the city possible without a car, and provides easy access to the surrounding communities of Oak Bay, Fairfield, James Bay and Esquimalt.
A visit to Victoria is an easy add on to any of our West Coast train trips.
Vancouver, British Columbia
Just across the water and a short ferry or plane ride from Victoria, Vancouver could be called Victoria's edgy older sister, boasting a larger population, a well-preserved Chinatown, and stunning mountain views. Roam the boutique clothing shops along Main Street, explore the many art galleries along south Granville Street or stroll through Stanley Park's stunning old growth forest, dotted with beautiful beaches and ocean vistas. A must-do when in Vancouver, Granville Island is easily accessible by car or sea bus, and filled with market stalls filled with locally-made pottery and delicious eats. Dine at the Sandbar's rooftop patio for spectacular ocean and city views and delicious west coast culinary sustenance.
This coastal city is the starting and end point for many of our Canadian train vacations, so plan to add a day or two for exploring.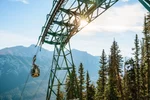 Banff, Alberta, located near Calgary in the Rocky Mountain Range, is a mecca for mountain lovers — and one of the beautiful places you'll visit on our Rocky Mountain train tours. Even if you don't want to climb or ski the mountains, Banff has all sorts of things to do to celebrate and admire them. The summer offers endless activites and sightseeingm which makes this mountain town an ideal place to visit in Canada during the summer.
Access to the mountains that surround this quaint village can be done by foot, car or air, depending on the amount of time and adventure one is seeking. Hike up the smallest and most accessible Tunnel Mountain for endless viewscapes of the surrounding range, soak in the Banff Upper Hot Springs, or take a helicopter tour to get a bird's eye view of the vastness of Banff National Park and a glimpse of some of the region's Bighorned Sheep. The town has a wide range of amenities, from high end hotels like the Fairmont Banff Springs Hotel to local eateries with history like The Grizzly House, around since 1967. You can even eat up high at Northern Lights Alpine Kitchen, located at the top of the Banff gondola terminal.
Jasper, Alberta is smaller and more remote than its big sister Banff, and some would argue it's more laid back. Centred in a national park so primaeval it's been designated a UNESCO Heritage Site, Jasper offers everything from unobstructed night time star gazing to wildlife viewing, paddling and breathtalking canyon tours. Whether you want to finish the day with a locally crafted beer at the Jasper Brewing Company or step it up with a night of fine dining at The Pines Restaurant overlooking Pyramid Lake, Jasper's got a little something for everyone.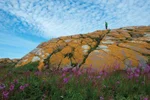 Churchill, Manitoba might not be the best known Canadian destination, but for those hungering for a true North experience, it's one of the best places to visit in Canada during the summer. Located on the shores of the Hudson River in Northern Manitoba closer to the central part of Canada, Churchill is known for its stunning natural assets — beluga whales, polar bears, and the spectacular Northern Lights among them. To complete the experience, try a meal at the Lazy Bear Cafe, where arctic char, wild bison and locally foraged berries and mushrooms are on rotation. The historically-minded will be fascinated by the Prince of Wales Fort national heritage site, and the various traditional dog sledding tours that run through the wilds — a must for those looking for an authentic northern wilderness rush.
Only accessible by train or plane, consider taking the sleeper train to Churchill on a Belugas and Bears Adventure, for a full immersion in the area's wild Canadian landscape.
Toronto, Ontario is best known as Canada's biggest, most bustling, and culturally diverse city. Located on the shores of Lake Ontario, the city is vibrant year-round, with distinct neighbourhoods like Little Italy, Little Portugal and The Beaches — all worth exploring— plus a well-connected subway system to make navigation manageable without a car. The number of cultural festivals and events make it an especially fun place to visit in Canada during the summer. The Royal Ontario Museum is an architectural wonder with a robust rotation of cultural and historical exhibits, and just off the city's coastline, the Toronto Islands are accessible by ferry boat and feature an amusement park, a farm and excellent beaches. Anyone who visits Toronto must take a dip into the St. Lawrence Market, loved for its dense array of offerings both edible and artistic.
Spend time exploring this metropolitan city on a Canadian Culture and History by Rail tour.
Niagara Falls, Ontario is one of those places that never fails to impress with its iconic status as a natural wonder, and it's definitely one of the best places to visit in Canada in the summer. Anchored by the massive Horseshoe Falls on the Canadian side of the border, the falls alone are worth a visit but don't forget the surrounding wine region filled with rolling vineyards and orchards, restaurants and farmer's markets. 40,000 butterflies await at The Butterfly Conservatory, and if that's too tame for your taste, try ziplining across the falls with WildPlay Niagara Falls or take one of the famous Maid of the Mist boat tours that puts you as close as safely possible to the waterfall's thunderous chaos.
Talk to your travel advisor about adding a trip to Niagara Falls to any train tour that starts or ends in Toronto.
Montreal, Quebec is a place unlike any other — European in vibe, while maintaining its distinct French Canadian culture, the city is always a surprise for those familiar with other parts of Canada. Located in the province of Quebec just north of Vermont, Montreal is a stop on many Eastern rail tours. It has a well-known culinary scene for all budgets and the city is especially pedestrian friendly — a good pair of walking shoes will go the distance in this beautiful place. French is this city's official language, but there's enough English for non-francophones to get by as you tour the city's famous Notre Dame Basilica, the original trading port of Old Montreal, and the Montreal Botanical Garden. Carnivores will love trying Montreal's famous smoked meat sandwiches, available at many delis but especially good at Schwartz's and Snowden Deli, or try a Wilensky (beef salami and bologna on a kaiser roll pressed on a grill) at Wilensky's, a city staple since 1932.
Quebec City, Quebec is a little less on the go than Montreal, so if you're looking for a more relaxed French Canadian experience full of gorgeous heritage brick and stone architecture and all worthwhile tourism sites within walking distance then this is the place to be. Putter through the Petit Champlain district — a bustling cobblestoned quarter full of shops with brightly painted shutters, and bistros that pulse with life from sun up to, well, sun up. Dine at the well-loved Le Lapin Saute and wander the 400 year old streets that look plucked from a fairytale book. For a more rural Quebeqois experience, add a sight-seeing tour to the surrounding areas and experience the rustic farmlands of Ile de Orleans, better known as the Garden of Quebec.
Spend time in both these French-Canadian cities on a Montreal and Quebec City getaway by rail tour.
Surrounded by the Atlantic Ocean, Cape Breton Island is on the northeastern-most point of the province of Nova Scotia and is full of charming maritime Celtic heritage. Known for its vibrant, richly-hued houses that flank the blue bays and green pastoral landscapes, Cape Breton is full of quaint fishing villages and down-to-earth locals. Good at any time of year, the Cabot Trail is a must-do, and is a great place to visit in Canada in the summer. Known as one of the world's most scenic drives; the 186 mile highway weaves through the Cape Breton Highlands National Park and surrounding towns. Whether it's a huckleberry festival in Ingonish or a local ceilidhs, where the region's blended Irish and Celtic heritage is celebrated through music and storytelling, Cape Breton has excellent cultural offerings and is a small but mighty place to explore.
Spend time in the area before or after your Maritime train tour.
Halifax, Nova Scotia is a perfect blend of young and old — a university town bustling with east coast energy and also a true eastern Canadian metropolis with deep historical roots. It has its own food (the donair), its own lighthouse (Peggy's Cove), and many an excellent pub (the Loose Canon or the Pickford & Black are always popular with locals). Located in the centre south of the province on the Atlantic Ocean, Halifax boasts a long tradition of supporting public art, so brightly coloured murals dot the city's landscapes. Take a stroll down Spring Garden Road, where shops and food are a plenty, or hike up Citadel Hill for a decent dose of the city's naval history and blustery ocean views.
As the start or end point for many Canadian train vacations, especially the trips across the country, Halifax is a perfect place to visit in Canada this summer.